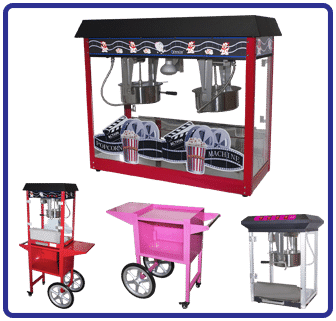 Display 15 Products per page
Popcorn Machine for sale @ Soft-Ice ChromeCater not Anvil
We do Popcorn Machines better than the rest – We supply ChromeCater
Pretoria | Johannesburg | Durban | Cape Town | South Africa and more…
Finally did you know this is where Popcorn Machine opportunities start?
WHAT IS POPCORN?
Many people ask… What is Popcorn? Where does it come from? So, we thought we would shed a little light on this topic.
A corn cob is where corn kernels derive from. Grown on a farm where harvesting takes place in the first quarter of every year. Once harvested, cut and cleaned the kernels are placed in storage to dry out, the farmers must ensure they keep the moisture content just right to ensure they do not dry out the internal moisture which is imperative for corn kernels to POP! If the kernel is too dry, it will simply not pop, which explains why some kernels remain un-popped and filter to the bottom of the batch. When a kernel is heated, the moisture inside turns to steam which in turn causes it to POP.
Furthermore why not start Popping with a Popcorn Machine today?
TYPES OF CORN:
Did you know that there are 6 main varieties of corn, and that about 12% of corn ends up in food that is consumed? That's right there are 6 types of corn that are available today.