Description
IR Thermometer | Non-Contact Infrared Thermometer South Africa (AIQURA) | Non-Contact Infrared Thermometers South Africa:
IR Thermometer | Non-Contact Infrared Thermometer AD801
FDA Compliant Certificate Available
Display mode: LCD
Dimensions: 77mm x 43mm x 149mm
Packing Dimensions: 110mm x 50mm x 165mm
N.W: 108g
G.W: 159g
Body temperature: 34 – 42.9℃
Rapid Measurement
Big Screen Back light
16 Sets of Memory
Non Contact Forehead Gun
Temperature Alarm & Red light
Unit Conversion
Automatic Closing Screen
Fahrenheit Scale & Celsius
Working Warranty
Furthermore some more information about the IR Thermometer:
Because measuring a person's temperature can be done in several ways. One method to measure a person's surface temperature is with the use of non contact IR Thermometer | infrared thermometers (NCITs). IR Thermometer | Non-Contact Infrared Thermometer may be used to reduce cross-contamination risk and minimize the risk of spreading disease. While typically 98.6°F (37.0°C) is considered a "normal" temperature, some studies have shown that "normal" body temperature can be within a wide range from 97°F (36.1°C) to 99°F (37.2°C). Before IR Thermometer | Non-Contact Infrared Thermometer's are used it is important to understand the benefits, limitations, and proper use of these thermometers. Improper use of a Non-Contact Infrared Thermometer may lead to inaccurate measurements of temperature.Where do you want to measure? Infrared thermometers for any application
Benefits of IR Thermometer (NCIT's)
Non-contact approach reduces the risk of spreading disease between people being evaluated
Easy to use, clean and disinfect
Measures temperature and displays a reading rapidly
Provides ability to retake a temperature quickly
ACCURATE TEMPERATURE READINGS – This digital IR Thermometer is ideal for forehead and body readings. It is more accurate than standard mercury thermometers.
QUICK TEMPERATURE READINGS – Taking your forehead temperature with the Infrared Thermometer is as simple as pointing and pressing a button. It uses infrared technology and can show readings in Degrees Celsius. Measurement temperature ranging from 32℃ – 42.5℃.
ENERGY SAVING – Powered by 2 x AAA battery (Not included). Automatic shutdown after 15 seconds of inactivity.
An infrared thermometer from Aiqura offers you the following:
An instrument for the fast, non-contact measurement of the surface temperature.
Easy temperature measurement, even with dynamic processes or in locations that are difficult to access.
Reliable temperature measurement with cost-effective technology.
What Type of IR Thermometer Do I Need?
Non-contact infrared thermometers are typically robust and versatile, with LCD screens that can display either easily discernible numerical values, or more advanced real time heat map overlays. As models have different capabilities when it comes to accuracy and maximum temperatures measured, it is easy to select a IR thermometer that best suits your requirements and budget.
Pocket-size models are available for added convenience, and Aiqura models are available for use in hazardous environments.
Using the IR Thermometer (NCIT):
As previously noted, the person using the device should strictly follow the manufacturer's guidelines and instructions for use for the specific NCIT being used. In particular, the following are typical instructions for Non-Contact Infrared Thermometers usage.
First of all hold the NCIT sensing area perpendicular to the forehead and instruct the person to remain stationary during measurement(s). (See Image 1)
The distance between the Non-Contact Infrared Thermometer South Africa and the forehead is specific to each NCIT. Consult the manufacturer's instructions for correct measurement distances.
Furthermore do not touch the sensing area of the Non-Contact Infrared Thermometer and keep the sensor clean and dry.

Image 1:
Correct Use – Forehead unobstructed, and IR Thermometer | Non-Contact Infrared Thermometer perpendicular to forehead and used at distance identified in manufacturer's .instructions.

Image 2:
Incorrect Use – Not perpendicular to forehead.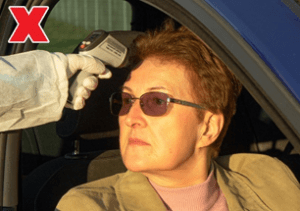 Image 3:
Incorrect Use – Forehead exposed to direct sunlight outdoors.
First of all Click Here to order now…
Therefore visit our Facebook Page for updates and Amazing News on our products!