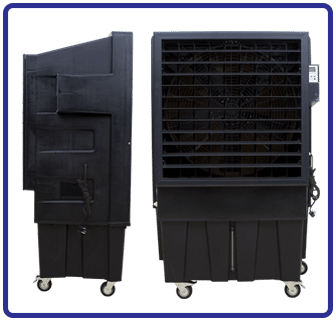 Display 15 Products per page
---
Evaporative Air Cooler Suppliers in South Africa. Air Cooler for sale!
Portable Evaporative Air Cooler for sale | Suppliers
ChromeCater

proudly supply the South African industry with these class leading Air Coolers.

Pretoria Portacool and porta cool and port a cool…

Sureley you knew that ChromeCater has the best Air Cooler for Sale in South Africa.

Did you know Evaporative Air Coolers are used widely in the South African market? Furthermore they are very economical and highly effective. However the way of cooling applies to area's from small to extra large.

Would you not rather enjoy a cool breeze in your office, showroom, workshop? Did we mention even cooling off that very large warehouse. Our range of water cooled portable air coolers can be indoors and outdoors. ChromeCater Air Coolers can be used with or without water. It's as easy as plug and play. Furthermore add water to cool down now!

Distribution area's include Pretoria, Johannesburg, Gauteng, Limpopo, North West and more…

First of all Click Here to order now…

Furthermore visit our Facebook Page for updates and Amazing News on our products!