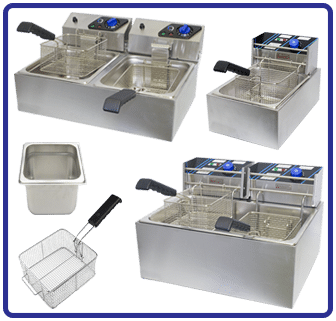 Display 15 Products per page
Fryer for sale at Soft-Ice Machines & Catering Equipment.
We do Chip Fryers better than the rest.
Pretoria | Johannesburg | Durban | Cape Town | South Africa and more…
Finally, did you know this is where fryer opportunities start?
Fryer for Sale
These fryers are perfect for a small cafe or a food van. They are compact and easy to clean making maintenance a breeze. At Soft-Ice you will find a tabletop fryer for sale from the best brand in the industrial catering equipment market namely Chrome Cater.
Deep Fryer
A tabletop deep fryer is a great way to maximize space and minimize costs. Fully portable, it gives you all the benefits of a freestanding model and is the perfect appliance for any café or restaurant with short order requirements.
Chip Fryer
Like all cooking processes, the art of deep-frying is a science. This science is actually quite simple: when the oil is hot enough, the surface of the food will cook instantly, forming a seal that the fat will not penetrate. At the same time, the moisture inside the food is converted to steam, which cooks the food from the surface inwards. Typically this process is done at oil temperatures of between 175°C and 190°C.