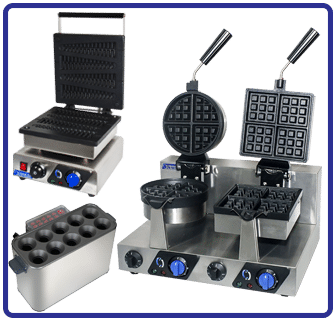 Display 15 Products per page
Waffle Baker for sale at Soft-Ice Machines & Catering Equipment.
We do Waffle Machines better than the rest.
Pretoria | Johannesburg | Durban | Cape Town | South Africa and more…
Finally did you know this is where Waffle Maker opportunities start?
Waffle Makers / Machines
First of all did you know waffle machines can be found nearly everywhere? — hotels, restaurants, buffets, and other food service establishments.  Therefore Waffle machines are in settings from ice cream shops to self-serve breakfast areas where customers can make the delicious, thick treats they love. We stock waffle machines in many styles. So you're sure to find one that suits your needs.  We have single grills, doubles, round ones, square ones, waffle cone makers and Belgian style
Furthermore commercial Waffle Maker Machines and Waffle Bakers from Soft-Ice Machines and Catering Equipment in Belgian style waffles, Cone shape waffles and round shape waffles that are easy to make in minutes. Waffle bakers feature various models with a special heavy cast iron plates that cook the perfect waffles in no time.