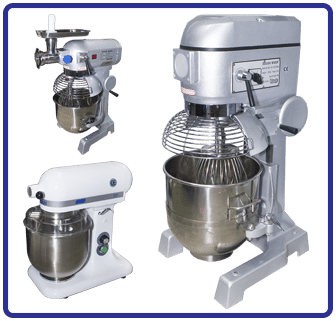 Display 15 Products per page
Planetary Mixer for sale at Soft-Ice Catering Equipment
Find Dough Mixer and more here.
Pretoria | Johannesburg | Durban | Cape Town | South Africa and more…
Finally, did you know this is where pizza dough mixer opportunities start?
Dough Mixer
Designed to sit perfectly on any countertop. Planetary Dough Mixer from Chrome Cater is built to last. Perfect for mixing smaller batches of dough, brownie mixes, cake mixes, and cookies it's ideal for use in confectioners, bakeries, pizza parlors, restaurants, and cafes. The durable motor complete with gear-driven, 3-speed transmission maintains just the right balance of power and precision for mixing both dense and creamy mixtures. At the same time, it also makes light work of combining most liquids including yeasts, salts, fats, and flour.
Overall the Chrome Cater planetary mixer is ideal for those smaller establishments who want a precision mixer that just keeps on going. This is why it's one of our most popular ranges. It has a great work ethic and what's more, it's got a great price tag to boot. If you want to find out more information about this or any of our other Planetary mixers, then don't hesitate to pick up the phone and speak to our experienced team.